Bicarbonate Filters
Bicarbonate Filters
Process:
An Improved process designed for dewatering sodium bicarbonate solids formed on the Surface of the Rotary vacuum drum filter which is discarded for rotation in partial submergence in a slurry containing the suspended solids. The process of Discharge of Cake includes the steps of pressing the filter cake against the surface of the filter drum by means of a pressure-applying roll which is driven to rotate, so that its surface velocity exceeds the velocity of the drum surface and, thereafter, discharging the filter cake from the surface of the filter drum.
This process relates to filtration by pressure-differential techniques and, more particularly, to such a filtration process for dewatering compressible materials like sodium-bicarbonate solids.
EIMCO-KCP Horizontal Vacuum Belt Filters for Sodium Bicarbonate Application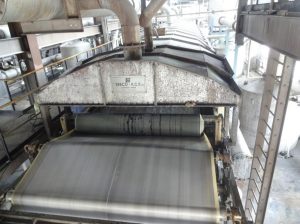 EIMCO-KCP have five Decades of process expertise and continuous technology advancement which are the Anchors on this solid-Liquid Separation Equipment along with proven technology.
Eimco-K.C.P. Sodium Bicarbonate Rotary Vacuum Drum Filters and Horizontal Vacuum Belt filters are typical of the specialized fields for which Eimco-K.C.P. can custom design equipment. Rotary Vacuum Drum filter feature the following:
Special heavy-duty construction throughout.
Special back-wash feature to prevent blinding of filter media.
Special wash system to provide uniform wash-water distribution.
Special streamlined drainage construction with extra-large valve to insure maximum
removal of wash liquor and low cake moisture.
Additional cake compression (Rotary Vacuum Drum Filter) in the removal of moisture from cake.