The drive to improve the quality of our products starts in research and development.
QUALITY POLICY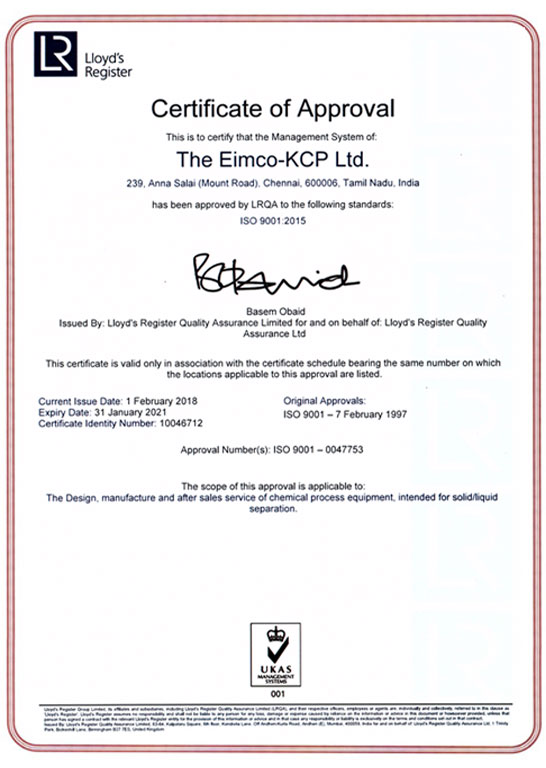 The EIMCO-K.C.P. Ltd is fully committed to the design and manufacture of products which will satisfy customer's need for quality, timely delivery and prompt service.
The EIMCO-K.C.P. Ltd striveshard for continuous improvement in working efficiency and our employees are dedicated to the company's quality management system for the continual improvement of the organization.
QUALITY CONTROL
The company is conscious of the quality of its products and has a separate Quality Control Wing which is under the direct control of the CEO of the Company.
Well qualified Quality Control Engineers check the various components, raw materials and inputs such as castings and fabricated items to specifications. The company also utilizes the facilities at:
Small Industries Service Institute, Government of India.
Testing & Analytical Lab – Government of Tamil Nadu.
Laboratory of Indian Institute of Technology, Chennai.
Industrial Testing & Analytical Laboratories.
QUALITY STANDARDS
ISO 9001 : 2015 Certification.
Lloyd's Register Quality Assurance.
Quality Assurance Plan –  Link
Calibrated Measuring & Monitoring Equipment.
Documentation of all Inspection Records in the form of a Data Book.